Type:
Medium-sized Loader
Transport Package:
Suit for Export
Specification:
6905*2470*3028mm
Origin:
Xuzhou, Jiangsu, China
XCMG 3Â ton Wheel Loader LW300FN for sale
High efficiency and reliability
Model Characteristics
It features high efficiency, energy-saving, and strong power.
The three-element torque converter and the fixed shaft power shift transmission feature
high maturity and reliability.
The 2600mm wheelbase features high mobility and flexibility and is applicable to all kinds of working sites.
The bucket is made of high strength material to realize high wear and impact resistance.
The diversified configurations and complete attachments adapt to the construction needs in different regions and under different working conditions.
The optional A/C and the sound insulation and noise reduction measure build elaborately a comfortable operating environment.
Performance Highlights
Outstanding capability, with traction at ≥9t and breakout force at ≥13t.
High adaptability, with turning radius at 5,165mm (tire center).
Market position
Industry 3t single-model sales champion.
Excellent quality power and drive systems  
Strong power
China-II emission compliance, high performance, and low fuel consumption
With strong power and high torque reserve factor, this engine meet the instant overload demand during operations and sufficiently provides the power required for heavy-load operations.
Classic and reliable
Transmission and torque converter assembly
The countershaft power shift transmission features high maturity and reliability.
The three-element torque converter ensures the maximum utilize tion of engine power.
The drive shaft flanges are of international standard specification and the distribution diameter of the fastening bolts is enlarged to realize super-strong torsion resistance and adapt to high strength and heavy-load continuous operations.
Enhanced heavy-duty drive axle of outstanding performances
All load carrying portions are solid and firm enough to ensure excellent overload resistance and meet the needs of various high strength and high load operations.
Firm and reliable super-strong heavy-duty structural parts.
Super-strong structure
The finite element analysis technology is applied for structural parts to reduce the stress concentration, eliminate the partial weaknesses, and thoroughly adapt to diversified working conditions. 

Optimized bucket shape
The lengthened bucket bottom and the sharp bucket shape ease the penetration and realize higher bucket loading capacity. 
The contracted flare angle and the reduced cross section ease penetration and lifting. 
Diversified attachments
Standard bucket suitable for diversified working conditions.
Rock bucket: It's dedicated for handing of hard materials (such as rock), featuring good resistance against wear and impact. 
Coal bucket: It's dedicated for handling of bulk materials (such as coal), featuring high bucket capacity and high efficiency. 
International quality hydraulic and electric units
The first-class hydraulic units ensure low pressure loss, less system heating, and high reliability.
The international quality hydraulic hoses applied feature high heat and pressure resistance and long life.
The hydraulic pipelines adopt double sealing means (DIN standard 24º taper thread + O-ring) to achieve better sealing performance and effectively solve the leakage problem. 
The harnesses are made of imported quality material and the process layout is optimized to ensure reliable electric circuit system.
Convenient Maintenances
The framework structure engine hood and the uplift large side doors boast large opening angle and make the checking, repair, and maintenance easier for the engine and radiator.
The central fuse case centrally indicates the working status of electric system and eases the maintenances.
The independent chamber design for oil return line of hydraulic oil tank guarantees the convenient maintenances.
Variety attached tools meeting requirements of different working conditions
Clamp: For grab and transport of various woods and tubing.
Bale grabber: It's used for the grabbing and handling of various light materials in farms, biological power plants, and paper mills.
Item

Specification

Unit

Rated operating load

3000

kg

Bucket capacity

1.5~2.5

m³

Machine weight

10600±200

kg

Dump clearance at maximum lift

2770~3260

mm

Reach at maximum lift

1010~1210

mm

Wheel base

2600

mm

Tread

1850

mm

Height of hinge at maximum lift height

3830

mm

Working height(fully lifted)

4870

mm

Max.breakout force

130

kN

Max.horse power

95

kN

Hydraulic cycle time-raise

5.5

s

Total hydraulic cycle time

10

s

Min. turning radius over tyres

5165

mm

Articulation angle

35±1

°

Gradeability

28

°

Tyre size

17.5-25-12PR

 

Overall machine dimension L×W×H

7050×2482×3118

 

Model

WP6G125E22

 

Emission standards

Emission 2

 

Rated Power/Speed

92/2300

kW/rpm

Fuel Tank

170

L

Hydraulic Tank

170

L

Travel speed

I-gear(F/R)

8/10

km/h

II

-gear(F/R)

13/30

km/h

III

-gear(F)

24/-

km/h

IV

-gear(F)

40/-

km/h
Contact:
XCMG sales Manager
Tony Han
No. 1Â Industrial District, Xuzhou Economic &Â Development Zone, Xuzhou China
Tel:+86 18552473186
 
 
Construction Machinery includes excavator, wheel loader, bulldozer, road roller and truck cranes.
It mainly using in construction, such as digging, earthmoving, loading and unloading.
The wheel loader from 2 ton to 8 ton, 3 ton and 5 Ton is most popular.
Bulldozer range from 80Hp to 420 Hp, 220 hp SD22 and 230 Hp SD23 is the most popular model.
Road roller have signal drum and double drum, also have tire road roller, the capacity ranges from 18 ton to 30 ton, SR20M is the most popular.
Truck mounted crane range from 3 ton to 20 Ton mini crane, lifting height from 15 meter to 38 meter. 8 ton, 10 ton crane truck are hot sale.
Forklift have 2 ton to 25 ton, both diesel forklift and Electric Forklift. 3 Ton Diesel Forklift and 5 Ton Diesel Forklift is most popular.
Crawler Excavator ranges from 0.8 ton to 46 ton, 0.8 ton, 1.2 ton, 1.5 ton, 1.8 Ton, 3.5 ton, 5 ton, 6 ton, 13 ton, 15 ton, 20 ton, 21 ton, 22 ton, 30 ton, 33 ton, 38 ton, 40 ton, 46 ton.
Shantui products including Diesel Forklift , electric forklift, heavy duty forklift, Gasoline Forklift , container forklift, Side Loader , Pallet Truck , construction machinery including shantui bulldozer, wheel loader, crawler excavator, road roller, generator set, motor grader, truck crane, construction machinery parts, Shantui Parts , Cummins engine parts, komatsu parts, and other machinery parts.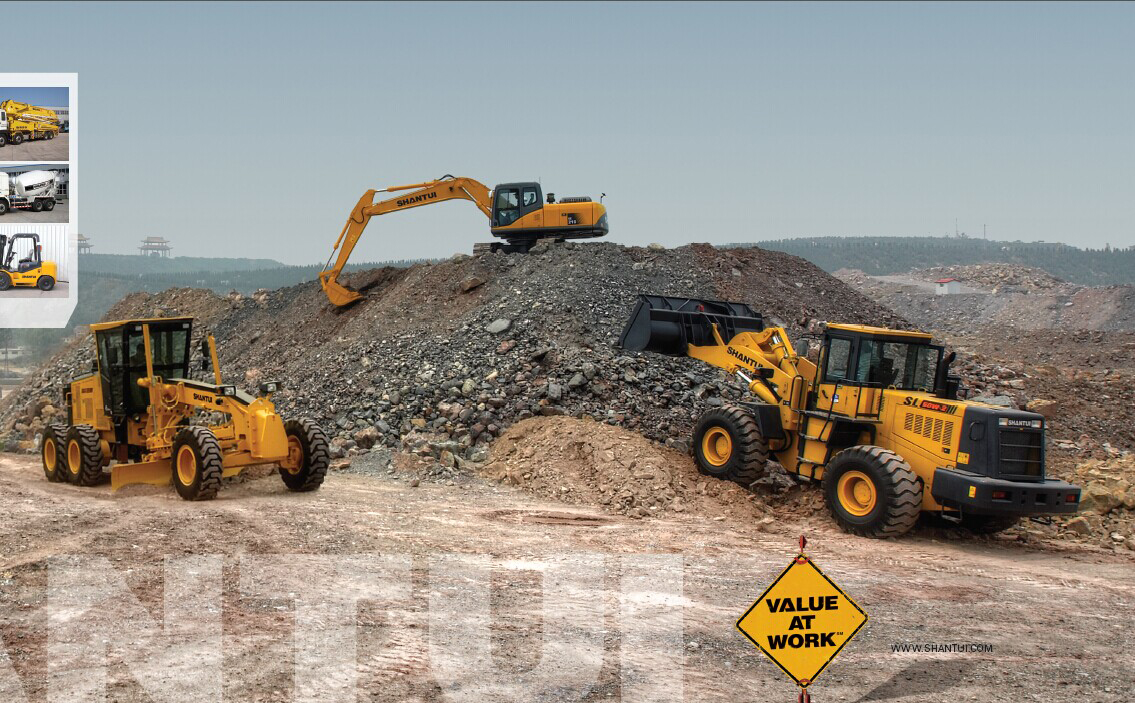 Construction Machinery
Construction Machinery,Crawlwer Excavator,Road Tyre Roller,Shantui Excavator
SHANDONG HE FORK TRUCK CO.,LTD. , https://www.shantuimachinery.com