After installing the wireless access point, check to see if a single wireless access point can operate normally, check the VLAN of each SSID, check the SSID carefully, verify the wireless coverage, and check the channel allocation carefully.

1. Verify that a single wireless access point is working properly
This may seem simple, but when installing many wireless access points, it's easy to ignore individual device issues. There may be a connection or configuration error that prevents the wireless access point from working properly. The problem of these single wireless access points may not be too obvious during network use, even during fast network inspections. But in the future, they may attack you and it is difficult to diagnose.

To avoid this, after inserting each wireless access point into the installation location, make sure it is powered up, the status lights are operating normally, and the network and Internet connections are obtained through each wireless access point installed. Remember to check the signal level of your wireless access point to make sure you are connected to the correct wireless access point.

2. Check the VLAN of each SSID

If your network is configured with multiple virtual LANs and SSIDs, you might incorrectly configure settings on your router, switch, or wireless access point. For example, even if each SSID is assigned to a single VLAN, the VLAN tag may be misconfigured, accidentally receiving the unknown VLAN into the private VLAN. Therefore, when you test each wireless access point to ensure it is working properly, consider further verifying that the VLAN is properly configured.

After installing each wireless access point, connect to each SSID and ensure that the end user device is assigned the IP address of that particular VLAN. To ensure that inter-VLAN routing settings are not accidentally enabled, or firewall rules are misconfigured, any of which allows users to access other VLANs, operate between end-user devices on one VLAN and end-user devices on another VLAN. .

3. Double check the SSID

To enable seamless roaming of connected devices between wireless access points, you may have the same SSID set on each wireless access point. If you use a wireless controller to centrally manage all access points, the SSID and other settings may be uniform. But if you want to manually configure each AP separately, it is easy to get an error. In this case, it is highly recommended that the SSID be double checked after it is inserted into each access point. SSIDs are case sensitive, so make sure they are named the same.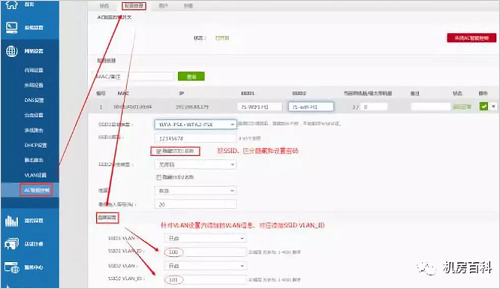 4. Verify wireless coverage
Even if you have completed the Wi-Fi site check before installing the AP, you should verify that the Wi-Fi coverage after installation is everywhere. As long as you walk around with your laptop, look at the local wireless signal readings of the device at different locations.

For more accurate readings, you can use the free or cheap Wi-Fi analysis application to view the signal levels in negative dBm values, and better, use a professional map-based mapping tool for a complete post-installation site survey So that you can see the coverage of hotspots or other visualizations while collecting other important data such as signal-to-noise ratio.

5. Double check channel assignments
Wi-Fi channel allocation is tricky, with three channels available, especially in the crowded 2.4GHz band. In some cases, such as when your neighbor's home or office uses Wi-Fi to interfere with your network, the automatic channel feature is the ideal choice. Although I want to enable the automatic channel feature of the access point, I recommend double checking the automatic channel.

Whether you use automatic channels or not, you should make sure your wireless access point is set to the optimal channel. In the 2.4GHz band, you should stick to channels 1, 6, and 11, because they are channels that do not overlap. You don't want the access point's signal range to be the same or overlapping channel as another access point, whether it's from your network or from a neighbor. The 5GHz band may also have overlapping channels, but more channels are available. You can check the usage of your Wi-Fi channel using a free or cheap app on your Android device or on your laptop.
Flat Tube,Seam Lock Oval Pipe,Steel Flat Tube,Seam Lock Pipe
Unovo Machinery Co., Ltd. , https://www.rollformingprofile.com