The auto parts industry is over 11 trillion yuan in size, and there is a huge potential for independent brands. From 2011 to 2015, the global auto parts market benefited from the rapid growth of the Chinese market, which increased from 9.9 trillion yuan to 11.2 trillion yuan. Among them, the scale of China's auto parts industry rose from 2.0 trillion yuan to 3.2 trillion yuan. However, foreign/joint ventures are still dominant in the Chinese market. In 2015, revenue accounted for about 80% of the total industry. The potential market for the auto parts industry is huge.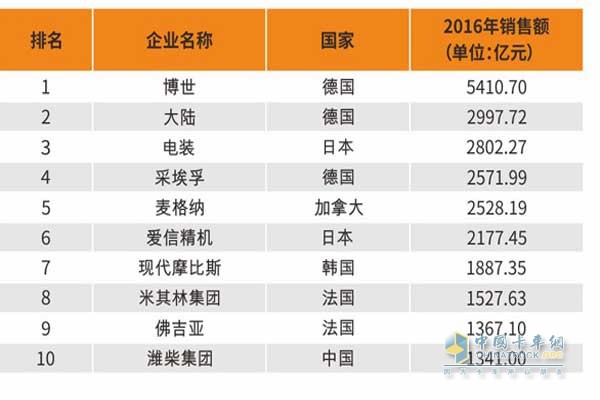 2017 Top 100 International Auto Parts Enterprises
In the top 100 world parts list, China only has five seats. From 2012 to 2016, although the number of Chinese auto parts suppliers on the top 100 auto parts suppliers list has increased, they still occupy only 5 seats, respectively Yanfeng Automotive Interiors (14th, revenue of 86.3 billion yuan). Yuan), Yingnafa (No. 66, revenue of 20.8 billion yuan), CITIC Dika (71st, revenue of 17.3 billion yuan), Johnson Electric (81st, revenue of 13.3 billion yuan) and Timothy Group (93th, revenue of 9.4 billion yuan).
China's spare parts industry has a huge potential for growth. In 2016, China's auto sales reached 28.02 million vehicles, accounting for 33.3% of global vehicle sales. However, in terms of the number of auto parts suppliers, only five Chinese auto parts suppliers were selected in 2017 to be the global auto parts supplier TOP100, in number with Germany (16), Japan (28), and United States (22 There is still a big gap compared to home);
As for the scale of revenue, the total auto revenue of the five Chinese component suppliers was RMB 147.09 billion, accounting for 2.9% of the total revenue of TOP 100 suppliers. Chinese parts suppliers have huge room for growth both in quantity and scale.
Large individual differences
There is a big gap between the volume of auto parts suppliers and overseas parts giants: In recent years, China's auto parts suppliers have gradually entered the fast lane with the development of the Chinese auto industry. However, the scale of China's component giants and world-class component suppliers is quite different, among which TOP100, TOP50, and TOP1 are less than 10%, 11%, and 28% of their corresponding revenues.
TOP100: Only 10% of the world's giants. In 2016, the global auto parts supplier TOP100 total revenue has exceeded 5.1 trillion yuan, accounting for approximately 41.8% of the world market scale. The total revenue of the top 100 auto parts and components industry in China has grown from 0.3 trillion yuan in 2012 to 0.4 trillion yuan in 2015, CAGR reached 14.3%; in 2016, the leading performance of independent components has entered the fast lane, and the TOP100 revenue totaled. Increased 27.5% year-on-year. However, the gap between Chinese parts suppliers and the world's giants is still huge.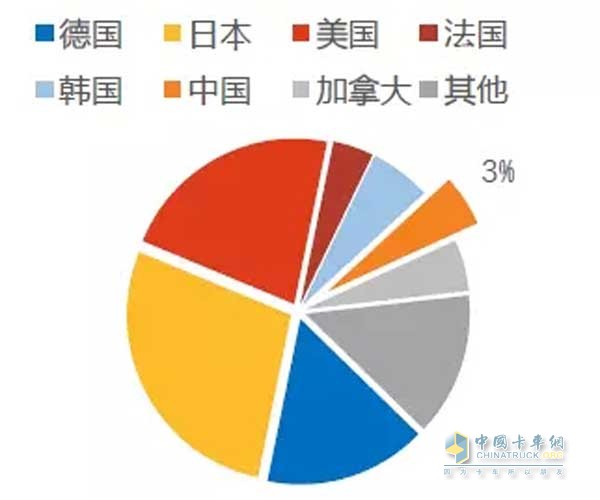 2016 Global Top 100 Parts Suppliers Total Revenue in Various Countries
TOP50: less than 11% of the world's TOP50. In 2016, China's spare parts supplier TOP50 had a total revenue of 472.01 billion yuan, accounting for 14.8% of the entire Chinese auto parts market; however, compared with the total auto parts supplier TOP50's total revenue of 4.3 trillion yuan, China The top 50 revenue accounts for only 10.9% of the total.
TOP1: In 2015, Yanfeng Auto Parts, a wholly owned subsidiary of Hua Yu Automobile, completed its restructuring with Johnson Controls' global interior business, and it became the world's largest automotive interiors supplier. With the sales revenue of RMB 86.29 billion in 2016, it ranks as the top self-owned brand among the top 100 suppliers in the world, but it is only 27.9% compared with Bosch, the world's largest supplier of parts and components.
Big gap in industry segments
There is a big gap between the independent leaders of various sub-sectors and overseas giants. Among the top ten sub-industries, leading suppliers involved in automotive trim, automotive electronics, and travel system business revenue exceeded RMB 10 billion in 2016, including Yanfeng Automobile Accessories (86.3 billion yuan) and Junsheng Electronics (18.6 billion yuan). Exquisite tires (10.5 billion yuan).
In addition, Fuao Group, Tuopu Group, Wanliyang, Asia-Pacific Shares, Huada Technology, Wanan Technology, Shenglong Stock are each in the steering system, other accessories, transmission systems, brake systems, bodywork, suspension systems, and engine systems. The segmentation area has established a leading edge.
However, in terms of operating revenue, the scale of leading auto parts suppliers and world-class auto parts suppliers in each sub-segment differs greatly, and the proportion of auto parts suppliers' revenue in the transmission system and engine systems accounts for less than 2%. % Even in the fastest growing auto parts industry, the revenue of Yanfeng Auto Parts 2016 after the restructuring of the Johnson Controls business was only 77% of Andorto, and China's sub-industry leaders have greater growth opportunities.
General Situation of Development of China's Parts Autonomous Enterprises
Autonomous parts suppliers started late and were small in size. After the 1980s, China began to focus on the production of a number of independent component suppliers that were born/started in the auto parts business, including CITIC Dika (1988), Minth Group (1992), Fuyao Glass (1995), and Ningbo Huaxiang. (2001) et al. But even with rising star parts suppliers (born in the 40s and 60s of the 20th century), independent component suppliers started more than 20 years late.
As of 2016, there were 74 OEMs in the Chinese auto market, of which 66 were OEMs with sales data throughout the year; SAIC, Dongfeng, FAW, Chang'an and BAIC were the five largest groups, accounting for 70% of the total sales volume. The next 30% is attributable to the remaining 61 companies. The degree of industrial concentration has been somewhat improved, but it still shows a small and scattered pattern.
The proportion of joint ventures and self-owned brands in sales of passenger cars in China in 2016
The joint-venture vehicle manufacturer has deeply bound overseas suppliers of parts and components, and its own brands have high inbound barriers. According to the "2016 China Automotive Industry Development Report" survey, more than 90% of the first-tier suppliers of the joint-venture vehicle manufacturers are overseas or joint-venture component suppliers, and only 56% of the self-owned brand automakers. Independent component suppliers can become Tier 1 suppliers.
Independent component brands usher in a rising opportunity
The rise of independent brands is irresistible and gradually erodes joint venture market share. In recent years, the sales of self-owned branded passenger vehicles continued to increase, and the market share increased from 28.4% in 2013 to 43.9% in the first half of 2017. The market share of brands in South Korea, France, the United States, and Germany declined to varying degrees. Among them, the decline in Korean brands was the most significant, with the current sales share of only 3.8%.
With the gradual increase in the market share of self-owned brand passenger vehicles, self-owned brand parts and components will also usher in new opportunities for development.
Pressure on joint ventures intensified, import substitution accelerated
Pressure on joint ventures has intensified, and import substitution machines are expected to accelerate. With the rapid growth of the auto industry and the slowdown in the growth of the industry, the competition in the auto industry has become increasingly fierce. On the one hand, the period for launching new models has been significantly shortened. On the other hand, the overall sales margin of the automotive industry has also dropped from 9.0% in 2014 to 8.3 in 2016. %. The intensification of pressure on the joint-venture vehicle manufacturers increased the demand for low-cost and new product launch speeds. The advantages of self-owned parts suppliers, such as high cost-effectiveness, quick response, and good service, are even more significant, creating opportunities for in-depth penetration of the supply chain of joint-venture vehicle brands, which will accelerate import substitution.
The weightlifting barbell bar is designed for the clean & jerk and snatch Olympic weightlifting competitions. It has a smaller diameter (28mm) and has more elastic energy storage.
Standard Barbell Bars,Olympic Weightlifting Barbell Bar,Barbell Solid Threaded Bar,Weightlifting Training Bar
SHANDONG LE REN SPECIAL STEEL CO., LTD. , https://www.sdhighstrengthsteelbolts.com