On May 24, the carbon monoxide gas plant of Anhui Huaihua Group Refined Chemical Company was completed and put into production.
For a long time, the amount of carbon monoxide gas used in the DMF production of Huaihua Refined Chemical Company could not meet the DMF heavy-duty production demand, and the gas purity and purification methods were also unsatisfactory. In order to excavate the potential of efficiency of DMF production facilities on a larger scale, Huaihua Refinement Co., Ltd. uses carbon dioxide reduction technologies with high technological content to build carbon monoxide gas projects.
Huaihua's carbon monoxide gas source transformation project adopts the patented technology of "carbon dioxide and oxygen gasification coke to produce high-purity carbon monoxide complete set of industrialization new process" developed by the National Coal Chemical Engineering Design Technology Center, which has advanced domestic level. After the project is completed, it can produce 4000 standard cubic meters of high-purity carbon monoxide per hour, which changes the existing bottleneck that the carbon monoxide production line cannot meet the requirements in terms of purity and quality, and limits the DMF production capacity. Product profitability. At the same time, high-purity carbon monoxide can be used as a valuable raw material for the development of carbon-chemicals, providing a good source of gas for the development of formic acid, methyl formate, and dimethyl carbonate in Huaihe.
Military Tent air conditioner is designed specifically for military applications where require cooling or heating, which will improve the working or living conditions, especially fit for soldier tents, tactical operations center, etc. As professional tent air conditioner manufacturer, Tentcool endeavor to supply high quality products strictly according to the military standard.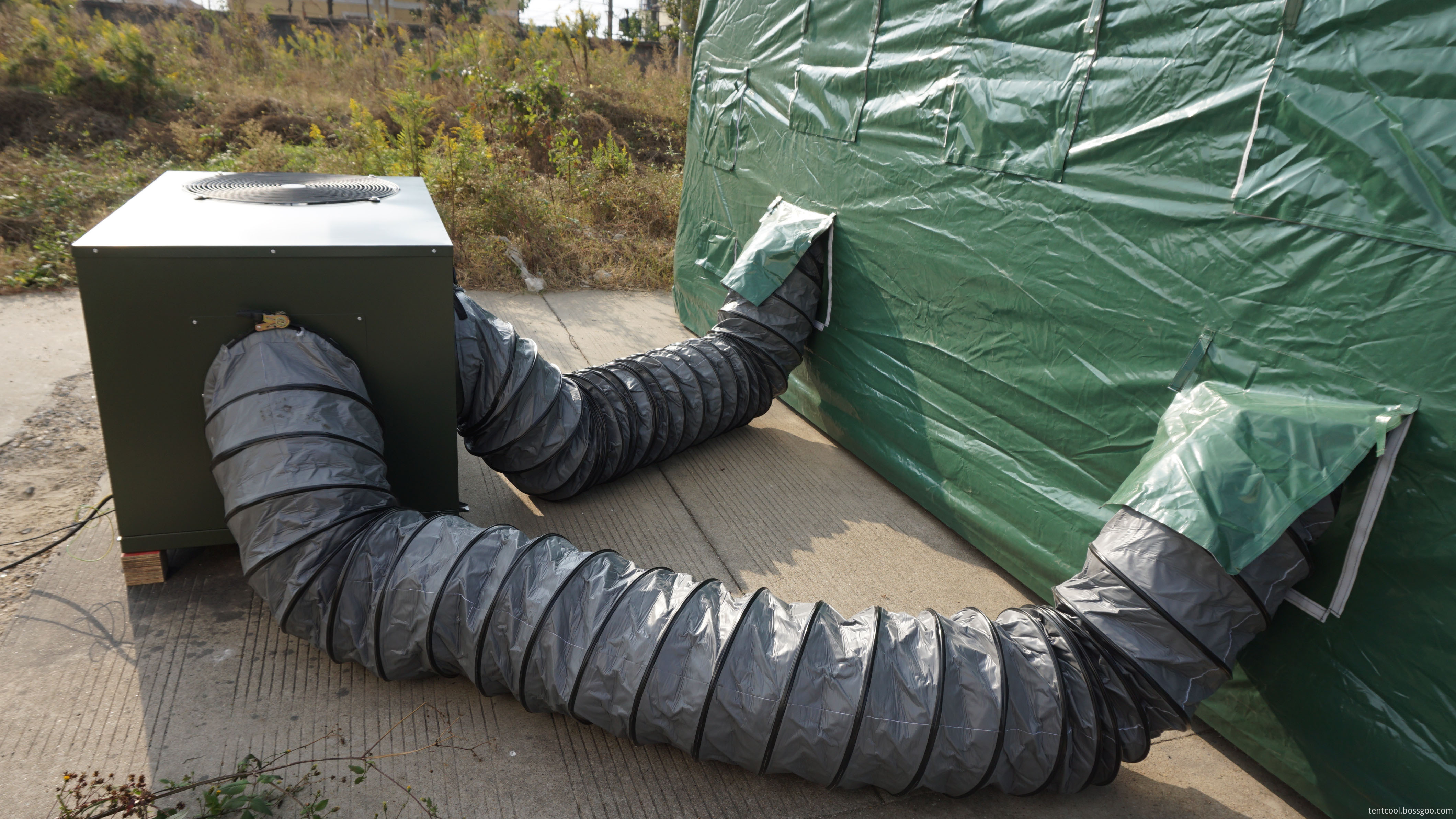 Features:
Transportable Design
Easy installation and maintenance
High quality Rotary or Scroll Compressor
Wide working temperature and application area
Eco-friendly refigerant
Optional Functions:
Custom painting
HEAT PUMP mode
Electric heating
High efficiency filter
Different supply voltages or frequency
Certification:
ISO9001
ISO14001
CE Certified.
Spare parts warranty of 24 months
After sales services and maintenance on demand.

Technical Data:
| | | | | | | | | | |
| --- | --- | --- | --- | --- | --- | --- | --- | --- | --- |
| Model No. | | TTAC-07HCWa | TTAC-07HCWa | TTAC-12HCWaS | TTAC-12HCWaS | TTAC-18HCWaS | TTAC-18HCWaS | TTAC-40HCWaS | TTAC-70HCWaS |
| Type | | Horizontal | Vertical | Horizontal | Vertical | Horizontal | Vertical | Horizontal | Horizontal |
| Cooling capacity | kW | 7.00 | 7.00 | 12.00 | 12.00 | 18.00 | 18.00 | 40.00 | 70.00 |
| Heating capacity | kW | 7.70 | 7.70 | 13.50 | 13.50 | 19.50 | 19.50 | 45.00 | 77.00 |
| Electric Heating | kW | 3.00 | 3.00 | 4.00 | 4.00 | 6.00 | 6.00 | 8.00 | 15.00 |
| Rated cooling power input | W | 2550 | 2550 | 4150 | 4150 | 7000 | 7000 | 17500 | 30200 |
| Rated heating power input | W | 2650 | 2650 | 4450 | 4450 | 8500 | 8500 | 18500 | 31400 |
| Rated cooling current input | A | 12.2A | 12.2A | 7A | 7A | 11.7A | 11.7A | 29.5A | 51.1A |
| Rated heating current input | A | 12.7A | 12.7A | 7.5A | 7.5A | 13.2A | 13.2A | 31.2A | 53.0A |
| Evaporating side airflow | m3h | 1000 | 1000 | 2000 | 2000 | 3000 | 3000 | 5500 | 5500 |
| Condensing side airflow | m3h | 3500 | 3500 | 5000 | 5000 | 10000 | 10000 | 22000 | 22000 |
| Air pressure | Pa | 200 | 200 | 200 | 200 | 200 | 200 | 200 | 200 |
| Compressor MFG | | GMCC | GMCC | PANASONIC | PANASONIC | PANASONIC | PANASONIC | PANASONIC | PANASONIC |
| Evaporating side Noise | dB(A) | ≤40 | ≤40 | ≤45 | ≤45 | ≤48 | ≤48 | ≤52 | ≤52 |
| Condensing side Noise | dB(A) | ≤55 | ≤55 | ≤60 | ≤60 | ≤65 | ≤65 | ≤70 | ≤72 |
| Net Weight | kg | 110 | 125 | 180 | 200 | 250 | 260 | 380 | 780 |
| Dimension (L x W x H)) | mm | 1150×710×820 | 740*620*1120 | 1280×930×1000 | 835*735*1275 | 1400×1080×980 | 930*850*1380 | 2100*1100*1210 | 2800*2100*1210 |
Military Tent air conditioner,Mobile Cooling and Heating, Military Shelter air conditioner, Soldier Tent air conditioner, UN Relief Tent Air Conditioner, NATO camps air conditioner, Military camps air conditioner
Taizhou Tentcool Electrical Appliance Co., Ltd. , https://www.tentcool.com