[ China Instrument Network Instrument Development ] Recently, the Research Institute of the Institute of Optics and Fine Mechanics of the Chinese Academy of Sciences (hereinafter referred to as: Anguang Institute) Gao Xiaoming research team has made new progress in improving the stability of the wavelength modulation absorption spectrum measurement system. "Laser frequency locking and intensity normalization in wavelength modulation spectroscopy for sensitive gas sensing" is published in the international academic journal Optics Express.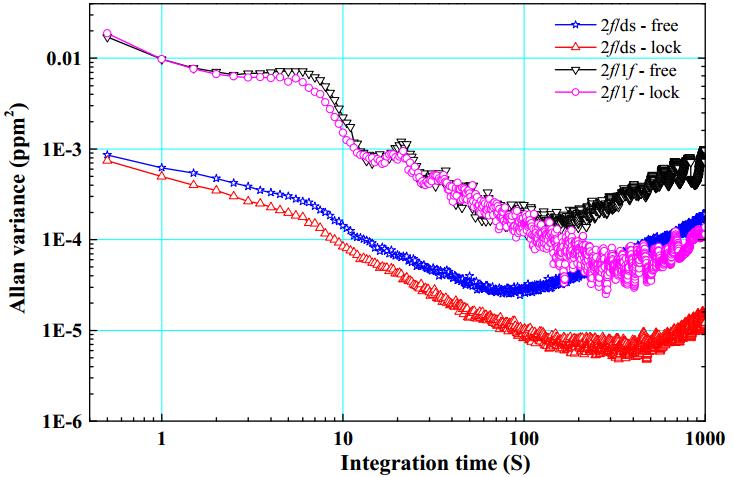 Comparison of ALLAN variance results under different conditions
Founded in December 1970, Anguang is located on the Science Island on the bank of Lushan Lake in the western suburb of Hefei City, Anhui Province. In May 2001, Anguang entered the ranks of the Chinese Academy of Sciences' knowledge innovation project and became part of the Hefei Institute of Material Science of the Chinese Academy of Sciences.

For more than 40 years since its establishment, Anguang has always been adhering to the philosophy of "excellence, innovation and innovation", and is committed to the research and development of basic science, advanced technology and equipment in the field of optics and related fields. It has developed into a comprehensive research institute focusing on interdisciplinary subjects such as atmospheric optics, environmental optics, optical remote sensing, laser technology and atmospheric physics and chemistry, focusing on atmospheric environment remote sensing monitoring technology and application and national defense strategy high technology.

The spectrum is a pattern in which the monochromatic light that is dispersed by the dispersion system (such as a prism or a grating) is sequentially arranged in a wavelength (or frequency) by the dispersion of the monochromatic light. The largest part of the visible spectrum in the spectrum is a part of the electromagnetic spectrum that is visible to the human eye. Electromagnetic radiation in this wavelength range is called visible light. The spectrum does not contain all the colors that the human brain can distinguish, such as brown and pink. In the fields of atmospheric trace gas detection, medical diagnosis and industrial process control, spectroscopy has a wide range of applications.

For the first time, the researcher of the Anguang Institute, Wang Guishi, and other researchers used the scanning frequency-locking method to lock the laser output frequency, avoiding the laser frequency drift and improving the stability of the system. At the same time, by real-time monitoring the amplitude of the modulated signal of the non-absorptive section as a reference, the real-time correction of the detected intensity fluctuation during the measurement process is realized, and the influence of the laser intensity variation on the concentration measurement result is eliminated, and the stability and accuracy of the measurement system are further improved. .

This technology has important application value for improving the performance of spectrometers. The research work was funded by national key research and development programs and projects such as the National Natural Science Foundation.

(Source: Anhui Institute of Optics and Fine Mechanics, Chinese Academy of Sciences, China Hefei Institute of Materials, Baidu Encyclopedia)
Henan Zonghai Plastic Industry Co., Ltd. , https://www.hnzonghai.com