Introduction: Twin-screw extruders have resulted in lower production costs. Since twin-screw models have good operational stability, coupled with low parts costs, their final production costs are still much lower than for single screws.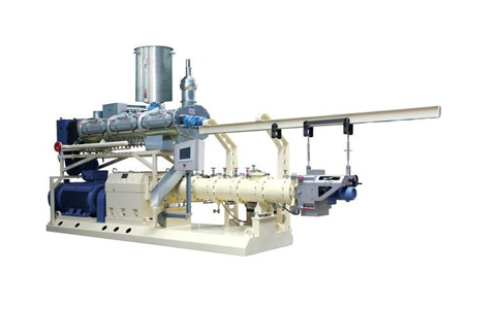 Twin screw applications:

1. Pregelatinized starch. Expandable corn starch, cassava starch, cassava residue, sweet potato residue, cassava powder

2. Pet Aquatic Feed. Expandable production of dog food, cat food, floating feed, sink feed, etc.

3. Puffed cereals. Expanded corn, soybeans, rice, millet, wheat, etc.

4. Tissue protein pullin. Vegetarian, vegetarian, and soy products

5. Snack foods. Extruded xiaomasu, wonderful crisp horn, potato chips, etc.

Twin screw advantages:

1. Wide adaptability of raw materials, suitable for puffing processing of high viscosity, high grease materials

2. It has less restriction on the particle size of the raw materials, and can adapt to the puffing of very wide or very fine material

3. The material flow is more uniform in the barrel, and the ideal expansion effect can be achieved by adding water vapor or small materials.

4. The product has better internal quality and appearance, smooth surface, high particle uniformity and good uniformity

5. The aging effect is better and the starch curing degree can reach above 95%.

6. The output is higher under the same power, and the good mixing performance makes the heat obtained by the material uniform in time, which accelerates the maturation of the material.

7. Wide variety of products and adaptability. It can process fine grain aquatic feeds, high oil formulations, high moisture, high cohesive products and multi-color, sandwich-like, special-shaped products.

8. Process operation is more convenient, automatic cleaning function, without disassembly

9. The wearing parts are lighter and the accessories cost is cheaper than the single screw

10. The production cost is lower. Because the twin-screw model has good operational stability and the accessories cost is also low, the final production cost is still much lower than the single screw.
We are Ricardo Engine and generator manufacturer.
We have our own Ricardo engine production line. We can supply all the Ricardo Diesel Engine Spare parts.
And we also manufacture generator with many brands, such as Ricardo, Cummins, Perkins, Deutz, Lovol, Volvo.
All the spare parts of engine are available and have in stock in our warehouse.
Please feel free to contact with me if you need any engine parts.
Piston,
Piston Pin,
Main Bearing.
Connection Rod Bearing.
Turbocharger.
Cylinder Head gasket.
Overhaul gasket set.
Starter, charger alternator.
Oil Filter
Fuel Filter
Air Filter.
Injectors.
Injection fuel pump.
Oil pump.
Water pump.
Crankshaft.
Connection Rod.
Radiator Fan.
Radiator Belt.
Flywheel gear ring.
Cummins Engine Part, Deutz Engine Part, Ricardo Diesel Engine Parts, Diesel Engine Part
Weifang Huatian Diesel Engine Co., Ltd , https://www.enginepart.nl